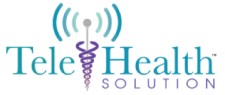 Remote Hospitalists Expand Care to Assisted and Skilled Nursing Facilities to Reduce ED Visits
OAKLAND, Calif., October 31, 2017 (Newswire.com) - Dictum Health, Inc. — innovators in acute, post-acute, and remote patient monitoring and TeleHealth Solution, a Charlotte, North Carolina-based, physician-owned TeleMedicine group, announced an agreement to deliver a complete telehealth service.
TeleHealth Solution reported an immediate and significant reduction in hospital readmissions and ED visits for facilities using their clinical services with Dictum Health's fully integrated, end-to-end telehealth system.
TeleHealth Solution's hospitalists conduct remote examinations using Virtual Exam Room (VER), where patients experience a live clinician encounter. VER provides simultaneous videoconferencing and viewing of comprehensive vital signs, cardiopulmonary data, and medical images for immediate diagnostic assessment.
"As a result of our TeleMedicine service, hospital ERs are less crowded, patients remain comfortable in their facilities, and families enjoy peace of mind," stated Waseem Ghannam, MD, MBA, a founder of TeleHealth Solution. "Our doctors, including myself, are thrilled to make such a huge positive impact."
Through this partnership, TeleHealth Solution services and Dictum Health technology aim to help reduce hospital readmissions, improve patient care, expand access to specialists, and instill greater confidence in assisted and skilled nursing facility patients and their families.
"It is gratifying to see our telehealth system improving the lives of patients in facilities that have teamed with TeleHealth Solution," said Mory Ejabat, CEO and Founder of Dictum Health. 
Watch this short video previewing Dictum Health's telehealth system and TeleHealth Solution's clinical services.
About TeleHealth Solution
TeleHealth Solution is a Charlotte-based, physician-owned TeleMedicine group offering custom, turnkey plans for equipping facilities with skilled Tele Hospitalists and cutting-edge TeleMedicine carts that work with basic Wi-Fi. TeleHealth Solution provides virtual, face-to-face care for patients in skilled nursing facilities, rural and critical access hospitals, and more. For more information, visit www.telehealthsolution.com
About Dictum Health
Experts in mobile, cloud and clinical sciences, Dictum Health is transforming the way telehealth is delivered by leveraging innovation and quality to provide the Next Evolution in the Continuum of Care. Our solutions give physicians the means to treat, consult, monitor, and manage even their most at-risk patients from virtually anywhere, anytime. For more information, visit www.dictumhealth.com 
Contact
Taryn Smith, Marketing Manager
Tel: 510.990.3153
Email: tsmith@dictumhealth.com  
Source: Dictum Health
Share: